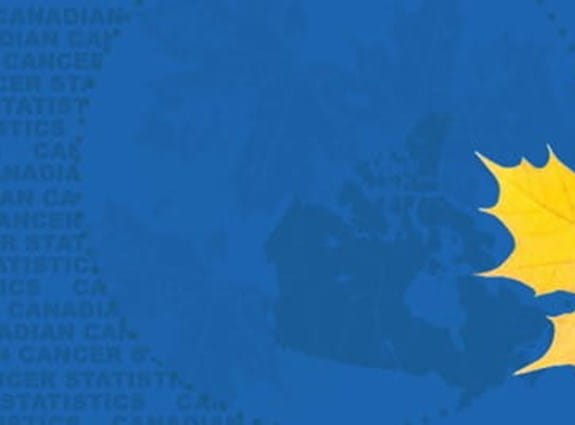 Canadian cancer statistics
Canadian Cancer Statistics: A 2020 special report on lung cancer
This 2020 special report provides statistics on lung cancer incidence, mortality, survival and prevalence. Where relevant, the statistics are presented by sex, age, geography, stage, histology and time. It also includes new statistics on lung cancer prevention, screening and disparities.

Material in this publication may be reproduced with the following suggested reference: Canadian Cancer Statistics Advisory Committee. Canadian Cancer Statistics: A 2020 special report on lung cancer. Toronto, ON: Canadian Cancer Society; 2020. Available at: cancer.ca/Canadian-Cancer-Statistics-2020-EN (accessed [date]).

Canadian Cancer Statistics: A 2020 special report on lung cancer resources
2020 incidence and mortality estimates for other cancers
In 2020, the Canadian Cancer Statistics publication was developed in the form of a peer-reviewed article Projected estimates of cancer in Canada in 2020 published in the Canadian Medical Association Journal (CMAJ). The article features 2020 projected estimates of incidence and mortality by sex and geographic region for 23 cancer types.
2019 cancer statistics@(Model.HeadingTag)>
For the most up-to-date statistics on the probability of developing and dying of cancer, incidence and mortality trends over time and survival for 23 cancer types, see Canadian Cancer Statistics 2019, as well as additional resources available in past editions.
The Canadian Cancer Statistics publications and special reports provide health professionals, researchers, policy-makers and the general public with detailed information about the burden of cancer in Canada. They are developed by the Canadian Cancer Statistics Advisory Committee in collaboration with the Canadian Cancer Society, the Public Health Agency of Canada and Statistics Canada with data provided by the provincial and territorial cancer registries.
Need more information?@(Model.HeadingTag)>
Call us toll-free at 1-888-939-3333

Or write us. We will reply by email or phone if you leave us your details. If we are not able to reach you by phone, we will leave a voicemail message.


If you are outside of Canada@(Model.HeadingTag)>