Financial impact of cancer@(Model.HeadingTag)>
When Canadians face cancer, their struggle is not just medical but also financial. In addition to a decrease in income, they also face a rise in expenses such as medications, the cost of medical travel, parking and home care costs. The stress of this financial burden affects their emotional well-being and, therefore, their psychosocial needs.
As Canadians live longer, with longer careers, more people are likely to develop an illness while in the workforce. With 1 in 2 Canadians expected to develop cancer in their lifetime and more than one million Canadians living with and beyond cancer, there is a critical need to provide additional support for people with cancer and their families.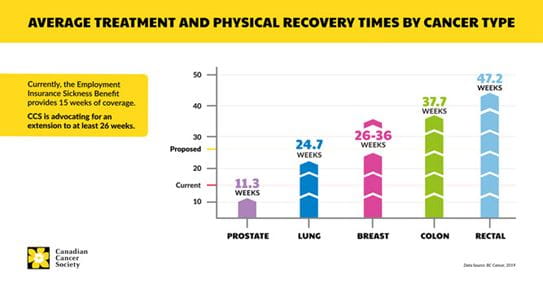 15 weeks is not enough@(Model.HeadingTag)>
The Employment Insurance sickness benefit currently provides 15 weeks of coverage, which is not enough to cover the length of treatment for many people with cancer. A report by BC Cancer notes that the average length of treatment and recovery for people with breast cancer is between 26 and 36 weeks and for colon cancer it is 37 weeks. These are two of the most common types of cancer in Canada.
It is time to alleviate this burden on people who are living with a disease as serious as cancer. We are calling on the federal government to follow through on its commitment to extend the sickness benefit to at least 26 weeks. This would bring the length of the benefit in line with the compassionate care benefits, which was extended from 6 weeks to 26 weeks in 2016.
An extension to the EI sickness benefit will ensure that Canadians who are facing a life-threatening disease such as cancer will receive more time off to heal and recover from their treatment.
Roundtable report@(Model.HeadingTag)>
Our position@(Model.HeadingTag)>
Now that the government has provided an extension of the compassionate care benefit for caregivers, the Canadian Cancer Society recommends the government turn its attention to people with cancer to enhance the Employment Insurance sickness benefit by:
increasing the maximum entitlement for regular benefits from 15 to at least 26 weeks to align with the compassionate care benefit
increasing flexibility for workers by allowing workers to claim benefits in smaller units (on an hourly or per day basis)
changing the eligibility criteria by decreasing the threshold of the number of hours worked by claimants
reducing the administrative burden by streamlining the requirements, application process and aligning with other federal benefits such as Canada Pension Plan
increasing employer access to supports and accommodations for workers